Today we present to you the interview of Maria João MARQUES, engineer at LNEG in Lisbon and doctoral student on the MICOATEC project.
Maria-João works at LNEG (National Laboratory of Energy and Geology) in Portugal as a corrosion engineer. In this interview, she presents her vision of the MICOATEC project, her role and how she imagines the future for this project.
Both at the origin of the project and a doctoral student
Maria-João is at the origin of the MICOATEC project. It was by analyzing the results obtained as part of a collaborative project at LNEG that she decided to analyze the subject of marine biocorrosion in depth. To achieve this, she joined forces with Régine BASSEGUY, a researcher at the CNRS, specializing in biocorrosion. Régine and Maria João thus pooled their skills to launch this new thematic line which gave rise to the MICOATEC project, supported by the ANR (National Research Agency).
Maria João has a double role to play. In addition to being at the origin of the project, Maria João is also a doctoral student and is doing her thesis as part of the MICOATEC project. A rather atypical case in the field of Research.
An innovative project in its vision and which should make it possible to consolidate a new line of research
The MICOATEC project is an innovative project because it aims to master a natural process of interaction between microorganisms and metallic materials to replicate it at the abiotic level and develop a form of anticorrosive protection.
In the future, the project should allow a real consolidation of a new line of research in the development of anticorrosive solutions for metallic materials.
All the knowledge that the project will generate will make it possible to understand the development of anticorrosive solutions in another way.
A second immersion campaign scheduled for May 2021
Experimental work has started and the first results of the 1st immersion campaign which started in September 2020 have been obtained. The characterization of the samples that have been exposed is underway. A new immersion campaign is planned for May 2021.
Discover our other articles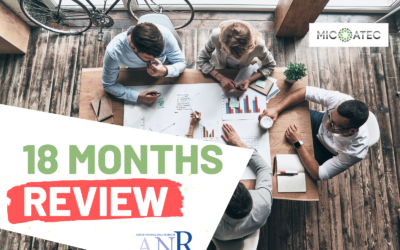 The MICOATEC project ambitions to develop a new environmental friendly process to produce anti-corrosive coatings using a biomimetic strategy. The starting point is the recognition that microorganism/metal interactions result in the formation of a layer that protects...